All this for $14.95
You won't find another service on the internet of institutional quality for close to the same price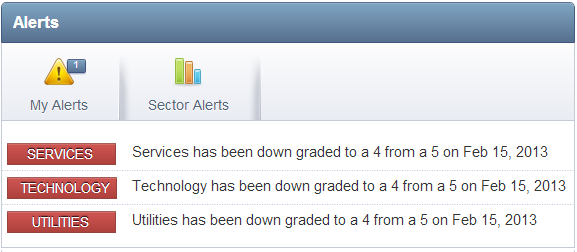 Buy Sell Rating Alerts
Receive email alerts on names you own or follow. Also receive alerts on sectors
Alerts can be view on home page or email.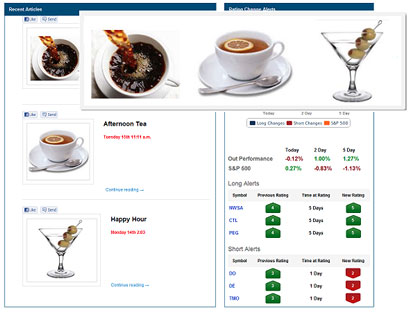 Morning Coffee, Afternoon Tea & Happy Hour
Chartlabpro.com offers market insight three times a day, coupled with discretionary trade ideas.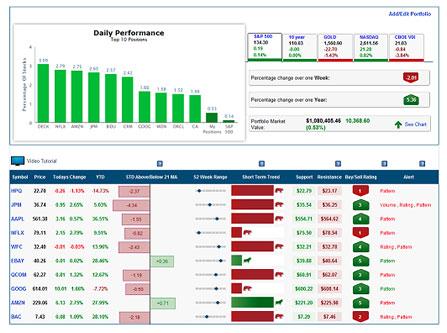 Dashboard
The dash board will give you updated alerts every day to take control of your portfolio. You will be alerted if your stock has a positive or negative rating change so you can make the appropriate modification to your portfolio.
Find out if your stocks are buys or sells
Find out if they are in a bullish or bearish trend (short, intermediate or long term)
Predefined Support and Resistance Levels
Pattern Recognition alerts
Standard Deviation a 21 and 50 Day Moving Average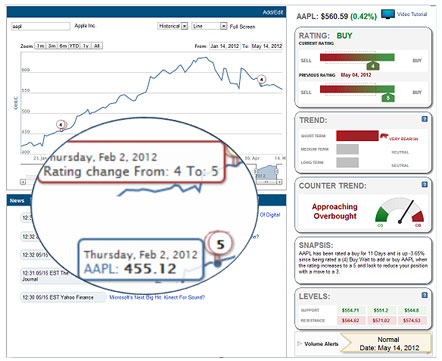 Automated Buy/Sell Ratings
Chartlabpro.com gives you rating changes from:
Strong Buy (5 Rating)
Buy (4 Rating)
Hold (3 Rating)
Sell (1 Rating)
Strong Sell (1 Rating)
The rating system will help you to determine when to enter and exit your favorite S&P 500 stocks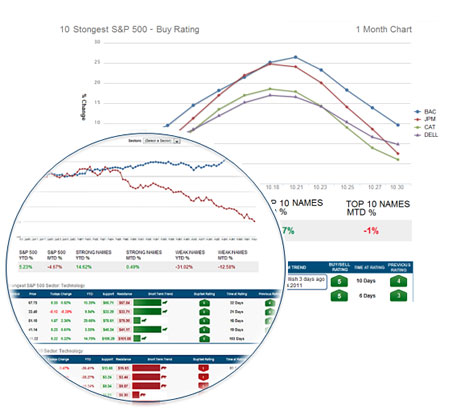 Rating Scan
Our proprietary algorithm scans the S&P 500 universe for the strongest names and tracks them for idea generation for your portfolio.
Our proprietary algorithm only measures S&P 500 stocks. We feel that S&P 500 stock provides the most liquid and efficient stocks.
Our scan allows you to view names for rapidly improving, contrarian and pair trades ideas.
We have been using this same algorithm for more than 15 years to run professional money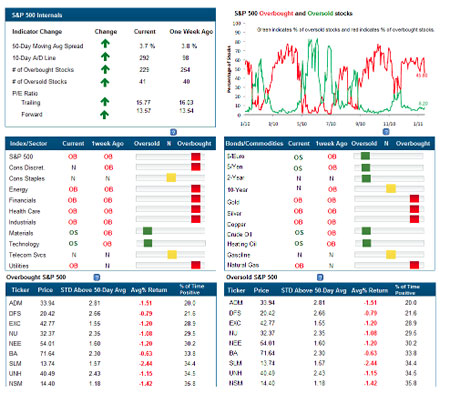 Market Internals
Get a broad market view by sectors and specific S&P 500 names.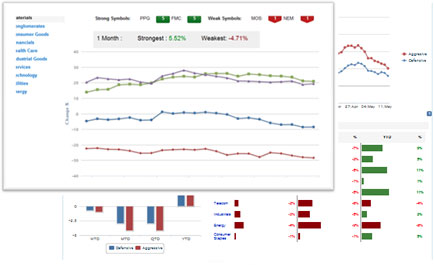 Sector Rotation
Our Sector Rotation page was designed to help discover changing patterns within S&P 500 sectors, so you can tactically allocate your assets.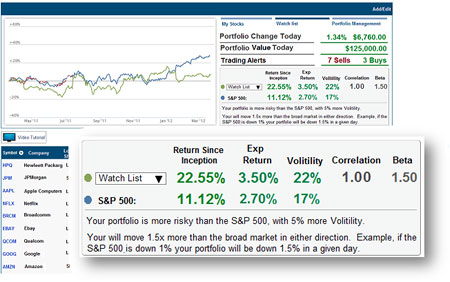 Create Model Portfolios
Create model portfolios based on your criteria for risk and return. Manage your portfolio's risk by seeing your model's beta, correlation, expected return and annualized volatility.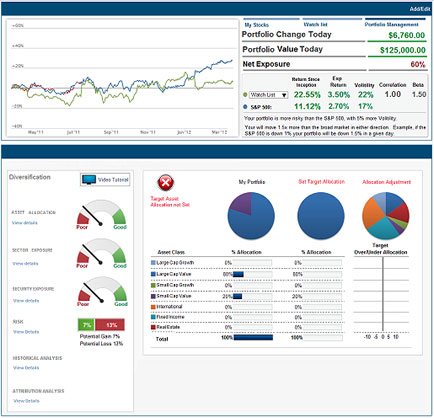 Portfolio Diagnostics
Discover your current asset allocation vs. your target asset allocation
Discover your sector exposure
Discover your security exposure
Discover your most risky positions and potential gain and loss
Review historical back testing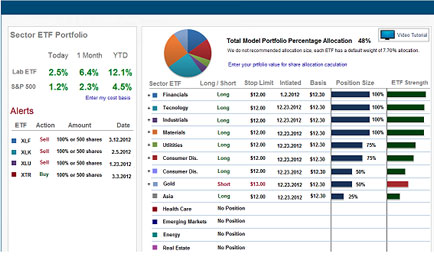 Investment Strategies
For investors looking for portfolio strategies that fit their risk tolerance and investment objective, we will offer hypothetical models that will incorporate our algorithm.
Models to be offered
Market Neutral
Long / Short Coming Late Fall
Dividend Portfolio
Sector Rotation